Leadership
President/CEO and Founder
Betty Long, RN, MHA
Betty Long, RN, MHA, is the President/CEO and Founder of Guardian Nurses Healthcare Advocates and a nationally recognized expert and speaker on patient advocacy. As a registered nurse since 1986, she has experience in clinical, management and consulting capacities. In addition, she has a long history of healthcare advocacy with special expertise in critical care, long-term care and geriatric care management. She is a member of the Mid-Atlantic Chapter of the Case Management Society of America as well as the Forum of Executive Women in Philadelphia. In 2022, she will serve as President of the Board of Trustees for The Nightingale Awards of Pennsylvania.
VP of Team Development
Rebecca Rivkin-Czarkowski, RN, BSN, MPH
Nurse Czarkowski, who joined Guardian Nurses in 2015, is responsible for training, developing and coaching all of our RNs. She is also taking on the role of Director of West Coast Operations effective July 2021. Nursing is a second career for Rebecca. Since graduating 13 years ago from nursing school, she has worked as an emergency room nurse in several hospitals before taking a role as a case manager and team lead, managing 19 care managers in a specialty oncology hospital.
VP of Operations
Robin Sambuco, RN, BSN
Nurse Sambuco is responsible for our Clinical Operations. She joined Guardian Nurses' team in 2013 with more than 15 years of clinical and management experience in pediatrics. She has worked with patients of all ages, though, and feels strongly that everyone needs an advocate–regardless of their age or situation! In August, 2015, she was named as a finalist for the 2015 Pennsylvania Nightingale Awards!
Manager of Data Metrics and Quality
Jessica Rudi, RN, BSN
After several years of coaching and advising our nurses who work in our Complex Care MCC Programs, Nurse Rudi has been promoted (December 2021) to Manager of Data Metrics and Quality. In that role, she will be responsible for both our internal and external reporting. Clinically, she has extensive experience working with diverse clinical situations including cardiac, endocrinology, and orthopedics.
Team Lead, Complex Care Programs
Teresa Duckworth, RN
Nurse Duckworth is part of our Seattle team and is a native Washingtonian. Her clinical experience includes hospital nursing–on med-surg, telemetry and labor & delivery units, as well as in long-term care at a skilled nursing facility. Tessie is passionate about wellness and enjoys working with patients to make better health decisions.
Team Lead, PA MCC Programs
Jackie Kane, RN, BSN
Nurse Kane leads our Mobile Care Coordinator (MCC) Nurses who work in our Pennsylvania programs. She has more than 33 years in nursing with experience managing a large cardiology physician practice. She has also worked in pediatrics, adult critical care, and nursing management.
Team Lead, Advocacy Services
Kelly Welden, RN
Nurse Welden leads the nurses who work on our advocacy cases. She has more than 14 years of clinical experience both in pediatrics and adult care. Her hospital nursing background includes case management, neurology, ER and critical care. She also has home care experience both as a case manager and as a nurse manager.
Team Lead, NY/NJ MCC Programs
Andrea Spector, RN, MSN
Nurse Spector leads the nurses who work in our New York and New Jersey Mobile Care Coordinator (MCC) Programs. Having been a nurse for more than 35 years, Andrea has had roles in acute care nursing, school nursing, consulting, home care, and nursing administration.
Our Nurses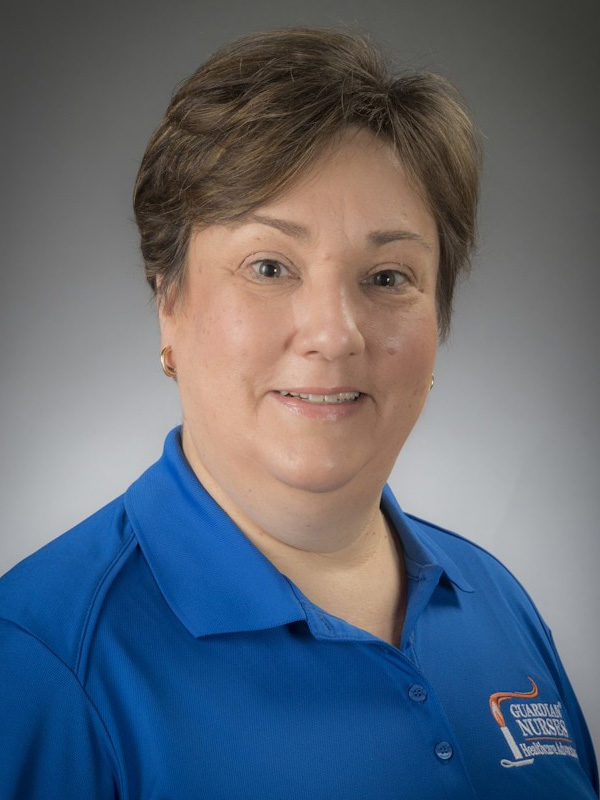 Nurse Advocate
Michelle Agnese, RN, MSN
Nurse Agnese joins our team after an 18-year career in case management, nursing education, and critical care nursing in hospitals both in New York city and in Northern New Jersey.
Nurse Advocate
Lindsay Aliano, RN, BSN
Nurse Aliano has been a nurse for 14 years and recently (June 2021) completed her BSN degree. She has worked as a staff nurse in oncology as well as in interventional radiology, and also has management experience in running an interventional radiology unit.
Nurse Advocate
Diane Bassett, RN
Nurse Bassett has enjoyed a 29 year career in nursing as well as a variety of roles in that time, most of them in South Jersey. Med-surg nursing, operating room, clinical trials, nursing management, case management and ambulatory care are just a few of the roles she has held.
Nurse Advocate
Paula Brozina, RN, BSN
Nurse Brozina has more than 17 years of experience in hospital, adult intensive care, adult and pediatric critical care transport, emergency medicine, home health, case management, and outpatient psychiatric care environments.
Nurse Advocate
Eileen Calderbank, RN, BSN, CCRN
Nurse Calderbank brings more than 35 years of nursing experience to her nurse advocate's role. To her credit, 30 years in, she received her BSN degree in 2017. Her career has spanned many roles in critical care and most recently managing a cardiac catheterization lab.
Nurse Advocate
Elizabeth Carpenter, RN, BSN
Nurse Carpenter joins the Guardian Nurses team with over 24 years of experience in various areas of nursing including cardiac intensive care, neurological intensive care unit, medical and surgical intensive care, interventional radiology, infection control, trauma, emergency care, cardiac catheterization, stroke recovery.
Nurse Advocate
Jennifer Donahue, RN
After receiving a Bachelor's Degree in Communications, Nurse Donahue found nursing and has never looked back. Now 23 years as a nurse, she has experience in hospital med-surg and post-partum units as well as insurance case management and community health.
Nurse Advocate
Jeneane Fitzmaurice, RN, BSN
Nurse Fitzmaurice began her nursing career in 2002 and has held several clinical roles in acute care. She has served the public in nursing roles spanning from student health to bedside nursing, to research nursing, to long term care.
Nurse Advocate
Lori Fitzpatrick, RN, BSN
Nurse Fitzpatrick began her nursing career in 1993 and through the years, has worked in both pediatric and adult nursing as well as several positions in clinical research and clinical trials.
Nurse Advocate
Conni Fonseca, RN, BSN
Nurse Fonseca is a 'second career' nurse having worked for many years in the newspaper industry in Florida. She began her nursing career in 2005 and went straight to the emergency department where she has worked in various clinical and management roles.
Nurse Advocate
Lauren Gant, RN, BSN
Nurse Gant comes to Guardian Nurses after several years of hospital experience in pediatrics both at Children's Hospital of Philadelphia and Inspira Health System in South Jersey. She has also worked as a school nurse in South Jersey.
Annissa Hensley, RN, BSN
Nurse Hensley joins Guardian Nurses with more than 23 years of healthcare experience in not just acute care hospitals but also in international missionary work in Cambodia and Mexico. Her recent experience has been in critical care units and interventional radiology units.
Nurse Advocate
Stephanie Houseman, RN, BSN
Nurse Houseman brings 16 years of diverse nursing experience to her role as a Nurse Advocate. Having started in labor and delivery nursing, she went on to roles in home health, care management, clinical research and finally as a Program Coordinator of the Transcatheter Aortic Valve Replacement (TAVR) Program.
Nurse Advocate
Charlotte Jaroma, RN, BSN
Nurse Jaroma has more than 16 years in nursing, mostly in the emergency department as a staff nurse and in leadership, but also cared for patients on telemetry and cardiac units. She brings great passion to her support of patients.
Nurse Advocate
Walker LaFleur, RN, BSN
Walker joins the GN team after nine years as a nurse both in Florida and Washington state. He brings with him both acute care hospital experience as well as an outpatient dialysis clinic. He most recently managed two dialysis clinics, overseeing a 50-person team, in Northwest Washington.
Nurse Advocate
Crystal Leonardi, RN, BSN
Crystal began her nursing career in 2001 as a staff nurse on the cardiothoracic surgical step-down unit at New York-Presbyterian Hospital: Weill Cornell and spent 10 years there. Since then, she has raised her family and worked a variety of per-diem positions in the NY/NJ area.
Nurse Advocate
Tish McBride, RN
Nurse McBride has more than 29 years as a nurse delivering patient care in med-surg and rehab units, as well as roles as a clinical care coordinator and IV/PICC Line specialist. She also has done compliance reviews and managed an out-patient chemotherapy center.
Nurse Advocate
Christina McCarrick, RN
Nurse McCarrick has had many diverse roles in her more than 30 years as a nurse. She has worked as a staff nurse, nurse manager, and case manager in acute care facilities as well as in the community and in home care.
Nurse Advocate
Jeanette Meredith, RN
Nurse Meredith has more than 20 years of experience providing care to a wide range of patient populations, including home care. She began her nursing career working with residents of a long term care facility followed by many years as a staff nurse at Our Lady of Lourdes Hospital in Camden, in med-surg and cardiac care units.
Nurse Advocate
Stephen Mitchell, RN, BSN, MPA
Nurse Mitchell happily 'broke the barrier' of being our first male nurse on the GN Team. As he admits, "I've always been surrounded by female nurses." Hailing from the Puget Sound area, Stephen has worked in clinical and psychiatric units for more than 10 years both in Washington and California.
Nurse Advocate
Maryellen Murphy, RN, BSN, CCCP
Nurse Murphy joins Guardian Nurses with more than 39 years of experience in the Philadelphia area in so many areas of nursing, we don't have enough room to list it all! Most recently, Maryellen's work was in hospice and home care. She brings clinical, operations and management experience to our team.
Nurse Advocate
Monica Nash, RN, BSN
Nurse Nash brings more than 25 years of experience to her role at Guardian Nurses most of which has been in tertiary care both as a staff nurse and manager. She has also worked in home care and hospice.
Nurse Advocate
Tonya Niverson, RN, BSN
Nurse Niverson brings more than 17 years of experience in hospital, specialty and primary care settings which included NICU, pediatric, adult, behavioral health, and oncology populations.
Nurse Advocate
Colleen Pace, LPN
Nurse Pace has more than 42 years of nursing experience. Throughout her long career, she has worked at hospitals and rehab facilities specializing in neurological, orthopedic, pulmonary and cardiac issues. She also has an extensive knowledge of many New Jersey and Pennsylvania hospital systems.
Nurse Advocate
Suzy Parker, RN
Nurse Parker joins our Seattle team as the Mobile Care Coordinator RN for the Northwest Sheet Metal Workers Health Care Trust, our newest MCC Program. Prior to joining our team, Suzy enjoyed a 35 year career in nursing including roles in hospital acute care, behavioral health/substance use programs, and case management.
Nurse Advocate
Heidi Petersohn, RN, BSN, CPT
Nurse Petersohn brings more than 20 years of nursing experience starting as an Army Captain and staff nurse at Walter Reed Army Medical Center. Her career includes pediatrics, school nursing, and oncology. She also works as a wellness and fitness coach and personal trainer.
Nurse Advocate
Peggy Pierce, RN, BSN
Nurse Pierce, comes to us after 28 years in various acute clinical settings, including the emergency room and later, the cardiac cath lab. She has also worked in nursing education at an urban medical center as well as in nursing management.
Nurse Advocate
Yvette Pigeon, RN
Nurse Pigeon joins our team with many years of varied experience most recently in cardiac transplant. With more than 18 years as a nurse and as a manager, she has worked in acute care settings as well as a case manager at an insurance company.
Nurse Advocate
Jennifer Prater, RN, MSN, CCRN
Nurse Prater joins our team with extensive experience in critical care and management in acute care hospitals. She also has home care and nursing education experience.
Nurse Advocate
Lori Rivkin, RN, BSN
Nurse Rivkin joins our team with more than 35 years of diverse clinical experience starting with acute care hospital nursing and for the last many years, working in home care and hospice for a large faith-based organization.
Nurse Advocate
Alicia Spataro, RN, BSN
Nurse Spataro joins Guardian Nurses after more than 20 years' experience in multiple areas of nursing, mostly within the acute critical care units in the South Jersey area.
Social Worker
Damali N. Stansbury, LSW, MSW
We are very proud to welcome Damali to our team as she is our first social worker! With experience in providing behavioral health services to children and families, Damali will support our team of nurses and together, they will support our patients' behavioral health needs.
Nurse Advocate
Megan Swider, RN
Nurse Swider has more than 22 years in nursing most recently working with long-term care patients. She brings many years of experience in general medical -surgical nursing as well as acute and subacute rehabilitation.
Nurse Advocate
Julie Vazquez, RN, CEN
Nurse Vazquez joins the Guardian Nurses' team after 15 years of experience in critical care nursing. Prior to nursing, she worked in residential group homes supporting adults with intellectual disabilities.
Nurse Advocate
Andrea Votendahl, RN, BSN
Nurse Votendahl, also a Washington state native, has more than 28 years as a nurse in the Seattle area. Most recently, Andy worked as an organizer for a Seattle nurses' union and prior to that experience, she was a case manager, nursing supervisor, nurse educator, and med-surg/telemetry nurse.
Nurse Advocate
Stephanie Wimmer, RN, BSN
Nurse Wimmer comes to Guardian Nurses after a long career in acute care. Her experiences include staff nurse, home care nurse, case manager, educator and manager.
Support Staff
Office Manager
Michele Murphy
Michele manages the administrative operations of our entire team and is responsible for taking care of our new headquarters.
Systems Manager
Joyce Pedrick
Joyce oversees our team's expanding technology needs as well as having responsibility for maintaining our data and client reporting.
Administrator – West Coast Operations
Kelly Zoller